How We Work - Why we do it
The Border Collie Rescue Society is established for the future care and welfare of the breed.
Originally founded in 1976, The Society was incorporated as a charitable company (No 3037504) on 24th March 1995 under the registered name of Border Collie Rescue.
It was set up as a strictly voluntary organisation, entirely staffed and run by unpaid 'Active Members' and 'Helpers', spread around the UK and sharing the workload.
Registered throughout the UK as Border Collie Rescue - Charity No 1128983 (UK) - Charity No SC040796 (Scotland)
Our commitment to the breed extends beyond sanctuary and re-homing.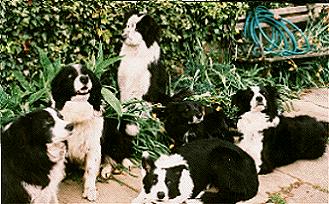 We know that education and information is the key to the prevention of most, if not all, of the problems that we have to address in rescue - both with dogs we take in and with the many calls we get from the public for advice about the breed and behavioural issues.
BCR is active in working to gain a greater understanding of the needs of the Border Collie, especially in matters of care, good husbandry and welfare.
What we learn we seek to pass on to others for the benefit, longevity and continuity of the breed as a whole.
It is not just a matter of understanding the physical requirements of the Border Collie.
It is also a matter of learning about and understanding their psychological needs.
Each year, many Border Collies are taken into rescue centres with behavioural problems caused by peoples lack of understanding of their mental welfare needs and sometimes a complete and inexcusable failure to take such needs into consideration.
This is not just a 'dog'. This is a sensitive and intelligent breed which requires knowledgeable care and handling.
The best Border Collie is a sane one!
It is only the dogs that show us that they don't want to work and are temperamentally suited to being pets or companions that we would, after full assessments, then offer to Companion homes.
We look forward to a future where need for re-homing is greatly reduced.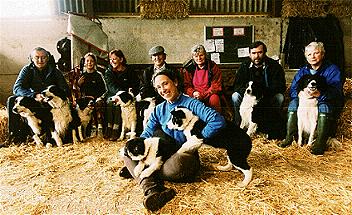 Our own experience, and the experience of other animal welfare charities we work with, has taught us that Border Collies do not fare well in kennel situations.
In most cases, keeping this breed in kennels is counter productive to their physical and mental welfare.
Border Collies cannot be properly assessed under kennel conditions - so we use an alternative.
All dogs we take into our care are kept in foster homes or at our specialist rehabilitation and assessment centre, and after some time to settle in, will go through a period of observation and assessment in order to reveal their true character and show us if they have the need or instinct to work.
This information is needed in order to enable us to responsibly re-home a dog to a home where it will be happy and fulfilled.
If a dog shows us that it needs to work we find it a working home.
Stock is the first assessment, but failing that, if the dog has strong drive and work ethic we look for potential ability in scent discrimination.
Search and Rescue is excellent for a dog that has no interest in livestock and won't be distracted by stock on the moors, but there are other areas - the Police, Prison Service or with Customs as a Sniffer dog.
We assess dogs to see if they are suitable to train to assist disabled people, Hearing dog or Guide dog - or other arena - we will look for a home for the dog in the appropriate working area so its drive and needs can be fulfilled.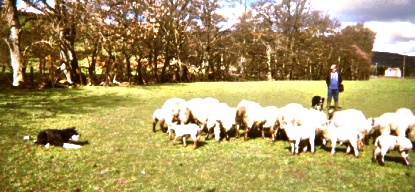 Flint came to us as a non-worker from good registered bloodlines.
His problem was that would not train well enough to be controllable around sheep, but during assessment showed us that he had good 'eye' and plenty of instinctive drive coupled with a great interest in stock herding.
After re-habilitation he was re-homed to a working farm in the Dales where he worked daily and very enthusiastically!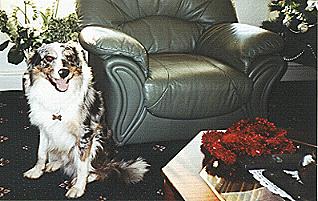 Floyd - now called Jed - came in to Border Collie Rescue from a farm in Wales that had suffered the consequences of Foot and Mouth disease.
He came to us with a brother and sister.
He was the only merle in the litter, a full merle, black, white and tan.
His siblings were both standard markings, black and white.
In spite of the problems they faced as a consequence of losing all their livestock the farmers family had kept the dogs well exercised and cared for, but there was no stock contact for the young dogs and a danger that they may become frustrated.
Unlike his siblings, Floyd demonstrated very little stock herding instinct or inclination to work during assessment, but did show a strong need to be doing something active with his life and has been re-homed into an agility home.
His brother and sister are both rehomed on farms, working stock.
Dogs coming in with behavioural problems, trauma or injuries are settled cared for and re-habilitated before re-homing; while those with special needs or disabilities are kept in long term foster care until a suitable home, that can offer them what they need, comes along.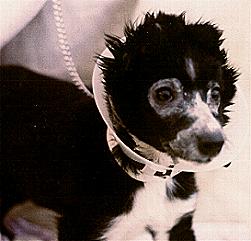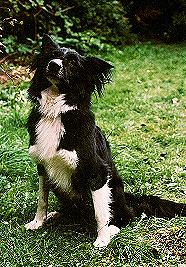 Kane was a dog that came to us from a home where he had been bought as a puppy through a newspaper advert.
He was dropped off to the home for £70 cash.
The vendor then promptly disappeared.
He was very ill and were it not for the intervention of the PDSA, would have died within a week.
He was suffering from mange, distemper and a myriad of minor ailments when his owner handed him into our care.
It took a lot of care, medication and time to turn the dog on the left into the dog on the right.
This is the evil of Puppy farming.
We have a non-destruction policy and we will not put a healthy dog to sleep unless it is proven dangerous or its suffering cannot be alleviated.
All our dogs go out to their new homes fully inoculated, wormed, microchipped and after insecticidal treatment to ensure there are no passengers on board. We neuter or spay at the appropriate time in their cycle.
Our dogs also leave carrying a tag on their collar with their reference number and our name and phone number on one side. The other side is left blank for the new owners details.
If the dog is lost and the finder cannot contact the owners they can contact us and we will look after the dog until we can contact the owner and they can reclaim it.
We like to keep in touch with our dogs, offering support and back up for clients and their dogs.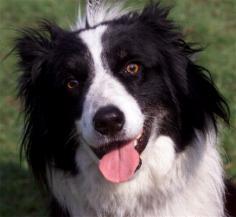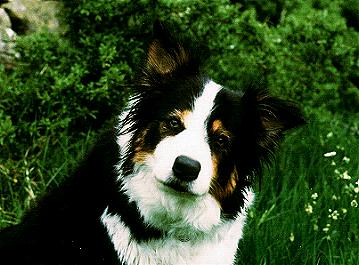 Border Collie Rescue is Dedicated to the Future of the Breed
We look at each case or problem individually, assisting where we can.
People who wish to Adopt a dog from us, or who wish to re-home their dog through us, may contact our HQ during our normal office hours on - 0845 6044941 - see the HQ Section of this site for current times.
At our head office we maintain a record of Rescue Centres, Veterinary practices, Dog trainers and Training classes, Behaviourists and Advisors that are either qualified or are approved by BCR as competent to advise.
We also have a growing breed reference library.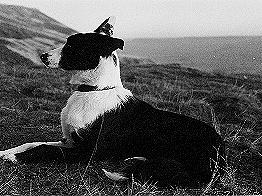 Between them our 300 + members have over 4.5 millennium of accumulated experience of the breed and some are specialists in their field.
As an independent breed rescue organisation, comprising entirely of volunteers, we offer unbiased advice, free of trade and commercial influences.
We do not associate with, nor are we influenced by, any dog breeders association, as this may set up a conflict of interest.
Our motivation is purely for the benefit and future of the breed we exist to defend.