To return to the page you have come from, use the 'Back' button on your browser or select from the left side menu.
Sponsorship package information
If you want to run and raise funds for Border Collie Rescue, we want to offer you as much support as we can.
The first thing to do is to get in touch with us as soon as possible so we can register you and start to put things in motion.
If you do not require us to refund your entry fee we would not ask you to meet any target, we would just help you raise as much as you can.
If you did want us to refund your entrance fee we would have to agree a target. We would discuss this with you.
The amount of sponsorship we would want you to commit to would depend on how much the event charges for entry.
If you met or exceeded the agreed target we would refund your fee.
Typically we would expect a sponsored entry to raise around 4 times the entry fee + £20 extra to cover our expenses in supplying a Tshirt and other costs we would incur.

An example - based on a £50 entry fee for a marathon - if the sum raise reached or exceeded £220 we would refund the £50 entrance fee. This would raise £150 for our funds and cover our costs. *

There is some risk on your part - if you failed to reach or exceed your target we would not be able to refund your fee.
* If some of the sponsorship is raised by payment using debit or credit cards through BT MyDonate, we do not deduct any payment processing charges when totaling the funds raised towards the target. The full amount of the original donation is included.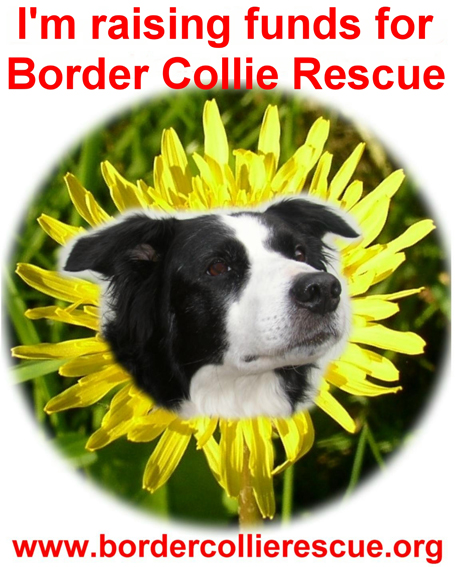 Sponsorship package
We supply each runner with -
A fundraising pack to help you in raising sponsorship.
A letter of authorisation stating you are raising funds for BCR in the specific event.
A page on our website to raise your profile.
Help setting up a MyDonate event page for online debit or credit card sponsorship. *
A vest or T shirt to wear on race day and keep as a souvenir (if a target is agreed).
Support and advice in training for your chosen event (if you need it).
In some events we may be able to provide support on the day at the event, but as we are a small charity with limited resources, we cannot guarantee this.
(If you are raising money to support our dogs, perhaps you may feel better about it if we are not committing an unreasonable amount of it to supporting you!)
Many events have their own goody bag and runners support service available to all entrants.
People who choose to enter any event and raise funds for Border Collie Rescue have a choice as to how we use the funds they raise.
They can choose to have their sponsorship money earmarked for our work in England and Wales or in Scotland and can also choose if the money they raise goes to our Central fund to help pay any of our bills, or to our Welfare fund, to be spent directly on the care of dogs.
It does not matter if the event is in England or Scotland, the runner has the choice.
* We use BT MyDonate because, unlike similar services, they do not charge us a fee or take any percentage of donations.
The only deductions from donations are the small charges for processing the card transaction - all the rest comes to us.